A Dedication by your Alaska Dog Photographer
I've been so busy being a dog photographer, surrounded by the beauty of Alaska, that I have failed to keep up with my blog. Recently, I took time out to rebuild and update my website, which is something I don't love. So, "welcome" to the new Tails from the Trails Blog. I thought it was only fitting to dedicate the first post in the new blog to the main "furry man" in my life. He was the one who gave me the courage to chase my dream of becoming a dog photographer and it was through him The Journey Photography by Cris was born.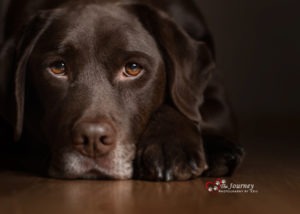 My Chocolate Lab, Cooper, turned 7 this past week and I decided to capture some sentimental photos of him. I wanted these images to focus on details that have such a deep meaning, which I will get to shortly. Often, you see me refer to Cooper, as my "main furry man" even though my husband and I have four other furry loves, (a black lab, a yellow lab, a springer spaniel and a golden retriever.) I love them all immensely, but Cooper has the gift of a deep love, an incredible story and his paw prints have touched the deepest corners of my soul.
My journey with Cooper began years ago when I was diagnosed with a disease that wreaked havoc on my endocrine system. My life changed drastically and at times I felt hopeless when modern medical equipment would fail me. Then, during one of my appointments, my doctor suggested that I look into a medical alert service animal. I thought long and hard about the option and did much research on the topic. During one of my most difficult days, I decided to take her advice. My search for the perfect four pawed soul began. I chose the Labrador breed because they are known to be the best for this type of service work, not to mention they are my soul breed. I spent almost a year interviewing breeders, studying their breeding program and lines. Then, it happened. I found the perfect breeder and the most perfect, squishy little chocolate face. His soulful eyes spoke to my heart and I knew I had found the one. Cooper came to live with me when he was 9 weeks old and our journey began.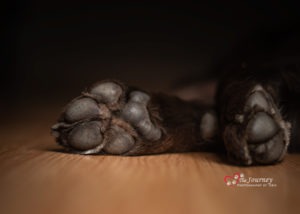 Over the next 14 months, Cooper and I went through some very intense training. We spent the majority of his early training with the amazing Ellis Gugel from "The Good Dog". Cooper and I had many great training days. We also had some that were very stressful, while working through his stages, as well as my challenge of learning what Cooper needed and what he was saying. Ellis helped us get through it all! He was patient, kind, extremely knowledgeable about canine behavior and dog training. His passion for his work showed. Ellis helped us build a solid foundation and went above an beyond to make Cooper and I a successful team.
Soon after, we started working with Ashlee Schwark with "Pinnacle Canine Services" to further Coopers task related training. Ashlee was awesome and in a very short time Cooper was performing his tasks to help mitigate my disability. Her ability to communicate with Cooper and make his job fun just blew me away. She is truly an excellent trainer and an asset to the service dog community.
At just 14 months old he passed his public access test and his trainers signed off for him to be a medical alert service dog. From that moment on he has been by my side almost 24/7 and alerts me to impending episodes. His alerts most always beat the medical device by 15-20 minutes. He is incredible!!
This brings me to the part about capturing images that focus on the details that have such a deep meaning. From day one, Cooper has communicated with me through his gorgeous and soulful eyes. I wanted to capture that soulful look in his eyes. The first sign of an impending episode is through the use of his nose. He uses his paws to alert me, which tells me to take my meds and get to a safe place. He then uses his paws to lay across me to ground me. My goal was to capture these very special parts of Cooper. Many may look at the images and see just pretty eyes, a nose, or paws. However, in reality, they are so much more than I can ever describe. Cooper also gets ample opportunity to just be a dog and have fun. I had to capture one of his goofy, playful moments since they bring much laughter and happiness to my heart. I will cherish every little detail forever!
During my journey with Cooper, he has brought much more to my life than just being my guardian angel. He has taught me about true friendship, as well as how to love deeply and unconditionally. In addition, he has taught me to never give up one my dreams. He has taught me about patience and how to love myself while living with a disability. Most of all, he has taught me to be a better version of myself. He has been there for my best days, as well as my worst and his love has never wavered. So, when you see me refer to him as my "main furry man", you will know why. I look forward to slowing my life down a bit and spending more time with him and sharing our incredible journey together.
"Cooper, my chocolate chunk, happy 7th birthday. I only hope and goal is that I can give you the love and the life worthy of everything you have given me".
Thank you for reading. Give your pups and extra scratch for me!