One of the fastest growing canine sports in the world is "dock diving". This high flying, super splash dog sport is not only loved by dogs, but also by humans alike. This sport has proven to be popular for all breeds and enticing for any individual or family who loves dogs!
Here in Alaska, we haven't had the luxury of having a dock diving facility or event. So, those dogs and handlers who love the sport had to travel to events in the lower 48 in order to enjoy the sport. But, that all changed this past summer. A local training facility had a vision and made that dream a reality.
Welcome To Alaska
When Alaska Dog Boarding and Training (ADBT) announced they would not only be building a pool for dogs, but to the size and specifications required to host dock diving events, the dog community went wild. The sheer excitement and anticipation was undeniable. ADBT (now also, ADBT Alaskan Diving Dogs) worked tirelessly, day in and day out on building the facility, as well as all the business side of becoming a sanctioned facility with North American Diving Dogs (NADD). And 'voila', Alaska's first ever dock diving event was held this summer.
Anticipating Inaugural Event
As a dog photographer who loves action shots, I couldn't wait to photograph this event. Not only that, I knew that two of my five dogs would LOVE this sport. Even though one of my dogs had never been in water, he has a drive like no other. I took both of my dogs to the practice day and within a short time spent with the dock diving trainers, both of my boys were ready to compete on the big day.
The Big Day
The highly anticipated day finally arrived. Dogs showed up for the event with bright eyes and wagging tails of excitement. Dogs of all breeds, different experience levels, and some that have never tried the sport or swam in a pool for that matter. The beauty of dock diving is the sport is not just for high flying, incredible jumpers with top notch obedience. The sport is for all breeds, ages (six months and older), any size, and doesn't need perfect obedience. It's all about having FUN!! Don't get me wrong, it is very important that your dog is socialized and in good physical shape. And though much of this can be self taught, I recommend spending time with a trainer experienced in dock diving for your first attempt. Especially for dogs who may be shy about leaping off the end of a dock.
Exciting Moments
I can say, without a doubt, that this was one of the most exciting events I have photographed, as the day was filled with a variety of expressions and emotions. My excitement level of photographing the event took off like a rocket the second the first dog came racing down the dock, eyes and face full of excitement. And then, the dog effortlessly flew into the air off the dock, excitedly anticipating the retrieval of the toy. When the dog landed, making a huge splash in the water, I could literally feel the momentum inside my chest - all while I captured each phase of the run in my camera. I photographed dogs leaping powerfully and landing gracefully, with their outstretched bodies, into the water during the competition portion of the event.
Every Dog Gave It a Try
During the break between competitons, there was a "try it" for the dogs who were new to the sport, even new to swimming in a pool. During the "try it" a trainer was in the pool and would safely coax the dog in the water when s/he was ready. I captured so many wonderful expressions of the dogs! From the "I'm not too sure about this" to the " this looks like fun" to the wide eyed "I did it." Capturing the moments where the dog was building confidence is truly more than words can describe. I do know one thing… Behind my camera, I was sporting a huge smile and my heart felt like it was going to explode due to sharing the joy with each dog.
Emotional Connections
Not only was the day filled with capturing images of fun and excitement with the dogs, it also provided many opportunities to capture the bond between dogs and their owners/handlers. The look of trust, excitement, triumph and love…yep I captured those moments. I could almost see the bond growing from behind my lens, and it was heartwarming to say the least.
Dock Diving Information
Background
While new to Alaska, canine dock diving is the fastest growing sport for dogs. Originally started in 1997 by a major dog food company, dock diving now has a large number of official organizations that manage competitive events throughout the world. Today, just as with agility and obedience, dogs can earn UKC (United Kennel Club) and American Kennel Club (AKC) titles for their dock diving prowess.
How It Works
For this sport, participating dogs take turns jumping from a raised diving platform into a pool filled with water. There are several different levels and competitions or disciplines within the dock diving sport depending on the organization, which include distance jump, high jump and speed. Since this was a sanctioned event with North American Diving Dogs, we had specific class levels and competition/disciplines based on their regulations. Each time the dog attempts a jump, s/he earns points toward a 'title' win in their specific class (Novice, Junior, Senior, Mater and Elite), which is determined by the length of their jump. The specific events held here in Alaska were the Distance Jump and the Air Retrieve and is described below according to North American Diving Dogs regulations.
Distance Jump
Long jumping, like what we experienced here in Alaska, is where a dog runs and leaps from an elevated dock (anywhere along a 40' platform) into the water for a toy (bumper) thrown by a handler. This requires that the handler and dog have practiced together such that they have mastered the coordination of the toss and leap. Distance of the jump is recorded and reflects space between the end of the dock to the dog's tail when it breaks the water's surface.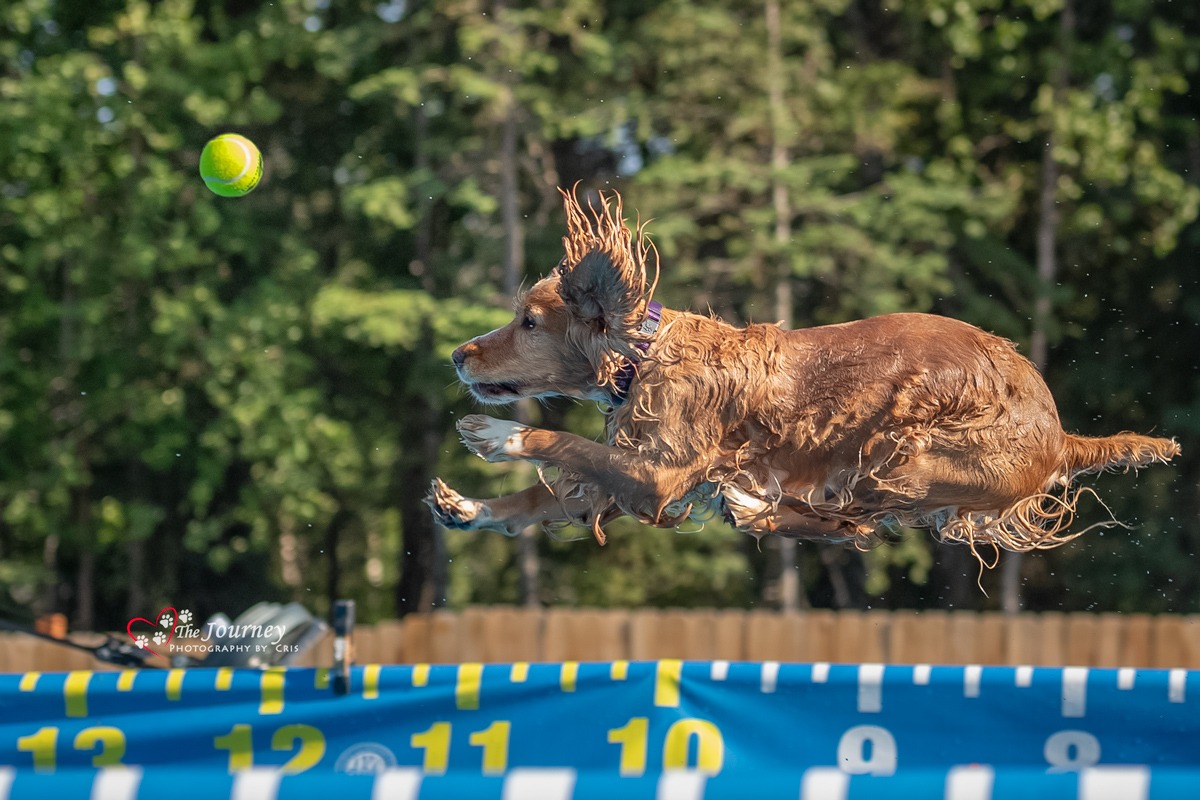 Air Retrieve
The bumper is hung out 4' above the water (2' above the dock) and a certain distance from the dock. The goal is for the dog to run, jump, and knock the bumper off the magnets. The dog does not have to grab the toy, just knock it off. After every successful grab (or knock-off), the rig that is used to hold the bumper is moved away further from the dock in 1' increments. The dog will make another attempt. If the dog has another successful grab or knock-off, the process is repeated. This continues until the dog has 2 consecutive misses at a certain distance. The last successful grab (or knock-off) distance will determine the division your dog qualifies for during that particular event.
Want Your Dog To Try Dock Diving?
As mentioned prior, there are a variety of dock diving organizations that you can check out. What makes them different? Each organization offers its own competitions, guidelines, rules, and award categories. But, you don't need to join an organization to start… You and your dog can start practicing on your own. Since this is a canine sport, you and your dog will work together, focusing on teamwork and combined skill. Oh, but you might want to wait until after winter for your first big water jump! Also, when you do decide to compete you will have to join a dock diving organization.
Skills Required
Enjoyment of the Sport
Both you and your dog have to truly enjoy working and practicing together. Becoming good at dock diving takes time and effort. If your dog isn't into it, that's okay, there are other activities you can do together. Some dogs get spooked off by heights. Most competitive docks are 2' above the 4' pool, and this height can just be too much for some dogs… And people.
Ability to Swim
Also, not just the capability, your dog should like water. Believe it or not, some dogs aren't natural swimmers. Cattle Dogs for example often need a little help learning how to swim. But, most dogs can pick up swimming rather fast, while other dogs excel at the sport. Canine-specific floating devices come in handy when first getting a dog comfortable with swimming.
Athletic Ability
Dock diving is a sport, make no mistake. This means that dogs who compete will need to be in peak physical shape, with good endurance. However, this doesn't mean that your dog has to be a superstar right out of the gate. Most dogs who compete in this sport build up their physicality over time through play. This includes games of fetch, swimming, learning tricks, balancing on beams and discs, climbing stars or mountain trails, and partaking in agility activity for the fun.
Chasing and Retrieving
These are required desires in a dock diving dog, as they are a key component of the sport. Dogs with a natural drive to chase toys, balls, birds, and squirrels often do well in this sport. If your dog needs a little training to begin, don't worry as you can focus all your efforts on using the types of equipment (bumpers) in dock diving.
How About Jumping?
Well, for most dogs, jumping long into water isn't natural. But, believe it or not, with just a little bit of training a dog can learn that jumping into a pond, lake, or small body of water is fun. While it may seem like the handlers are just tossing toys for their dogs, that's not the case in dock diving. A dog's angle of trajectory from the jump is aligned with the handler's throwing skills. So, it's key that you first work on your throwing accuracy so that your dog learns to follow suit. The key is to start off slow... And low. Meaning, build a very low dock for your dog's first jumps and gradually raise it over time - all while maintaining the accuracy of your throw.
Spectator Or Competitor
Whether or not you watch or participate in dock diving, you'll have a blast. I know I did. It was awe-inspiring to photograph the movements and relationships between the handlers and dogs. The masterful ways the dogs leapt from the dock was quite a beautiful thing to witness - and stunning to capture in images. I was never so glad for all my training and experiences as a professional pet photographer, as these dogs were extremely fast. I'm looking forward to more canine dock diving events being held in Alaska, and I hope you join us next year.
Thanks, North American Diving Dogs and ADBT Alaskan Diving Dogs, for bringing this great sport to our beautiful state! And thanks to all the dogs who participated - they had a blast, as did the humans. And on a personal note, a HUGE "thank you" to Lynda, Cara and Cathy (dock diving trainers) who worked with us in getting our two boys ready for the event. Both of my dogs titled at the event and we couldn't have done it without their expertise.
The event had a great turn out, a fun-filled day and we all made new friends, both furry ones and human ones alike.